The G+ (Global Offshore Wind Health and Safety Organisation) Stakeholder Forum was held on March 23rd in Madrid, to discuss the progress of offshore wind health and safety over the world. G+ has been focused on occupational health and safety issues within the offshore wind industry, hoping to share the global experience within the industry with the participants by hosting the forum.
The director-general of Taiwan OSHA, Dr. Tzou Tzu-Lien, had been invited to participate in the forum through online participation. He soon assigned the senior specialist Chen Zhi-Qi to share the presence of the offshore wind industry, the future vision of occupational safety and health, the governance goals, and the achievements of promoting international exchange and cooperation in Taiwan. Dr. Tzou indicated that offshore wind is an emerging industry in Taiwan. Since the construction, operation, and maintenance of offshore wind turbines are restricted by many uncertainties such as weather or sea conditions, the working environment within the industry will face higher risks. In order to ensure construction safety and construct a high-quality working environment in the offshore wind plants, Taiwan took a reference from the occupational safety and health inspecting system in the offshore wind plants in the UK, to assist business units to implement self-inspection and risk assessment by making up inspecting and checking groups, strengthening the abilities of inspection, establishing the cross-functional technology platform, and developing the related regulation regarding construction safety. The models of the offshore wind farms and the wind plants owned by Taiwan Power Company were completed, and started operating in November 2019 and June 2021 respectively, with altogether 43 offshore wind turbines were set. No occupational accident happened during the construction, with the lost time injury frequency (LTIF) being 0.235 and 0.223 per million man hours respectively, which were far below the number 1.55 reported by G+ in 2021. Since having preliminary safety performance, the development and operation of offshore wind plants will sequentially expand in Taiwan in the future.
The director-general Dr. Tzou Tzu-Lien indicated that participating in the international forum online to gain experience from all over the world, can not only promote the implementation results and performances by Taiwan OSHA, but also understand the trend of the policies of occupational safety and health within the offshore wind industry worldwide, which absolutely benefits policy planning and execution regarding occupational safety and health in Taiwan in the future. The aims of communicating with the organisations and groups like G+ are to promote the extent of international exchange and learn from the international experience in accident prevention, to achieve the goal of making Taiwan listed as the world-leading level in occupational and health.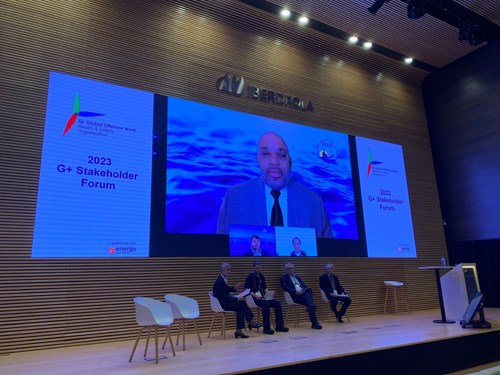 Taiwan OSHA shared the status of occupational safety and health within the offshore wind industry online in the G+ forum.